DIABETES AND VISION
Diabetes can affect vision and is one of the most frequent causes of sight loss and blindness in working aged people (20-60 years of age).
It is estimated that fifteen years after developing diabetes, 98% of those with type 1 diabetes and 78% of those with type 2 diabetes will have some degree of retinal damage. Given that diabetes can express in young people, and that the retinal changes can show up 15 years later, means that people suffering from diabetes could become visually handicapped at a relatively young age.
Diabetes damages small blood vessels throughout the body, including the retina

Diabetic retinopathy occurs when small retinal blood vessels begin to leak blood and other fluids in the eye. This results in deprivation of nutrients and oxygen from the retina and leads to vision loss

Diabetes can affect the eye in TWO major ways:

First, it can produce vision loss at peripheral locations

It is important to recognise that people can develop peripheral visual field loss and not realise they have it – testing becomes an important part of exposing these losses
To find the earliest changes in diabetes we need to test peripheral locations of vision using a Visual Field Test

The second type of vision loss is that due to macula edema and swelling. The central part of the retina becomes swollen with leaking fluid and impacts visual acuity

can lead to permanent sight loss if not treated early
We can find early macula edema with Acuity Test and Macula 10-2 test
Current treatment for diabetic macular edema is with intravitreal injection of antiVEGF agents (aflibercept or ranibizumab\).  However, as was the case for AMD, without the use of tablet-based monitoring of patients, their doctors will not know when the injections are needed unless the patient presents in their clinic and the delay in giving these injections can lead to sight loss.
DIABETES & THE IMPORTANCE OF REGULAR EYE TESTS
VISUAL FIELD TESTING
8% of participants with Diabetes return an abnormal Visual Field Test although their retina is normal
The incidence of visual field loss increases to 65% with severe diabetic retinopathy
Vision loss can predict the future development of retinopathy by up to 18 months. These people need to be monitored closely to ensure prompt medical intervention (Bearse et al. Prog Retin Eye Res 2006; 259(5):425-48)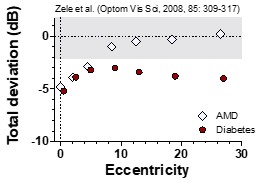 Patients with early diabetes show a loss of
sensitivity across the visual field.
LOW CONTRAST ACUITY TESTS
81% of people who were Diabetic for 9.5 years, but who did not have Retinopathy, were found to be abnormal on this test (Dhamdhere et al. Invest Ophthalmol Vis Sci 2104: 55: 3368-74)
The test will also detect developing cataract – a common complication of diabetes.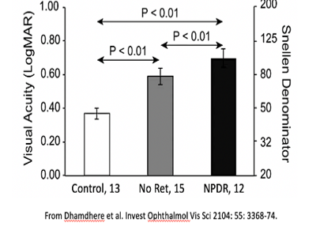 Diabetic patients with NO retinopathy (middle bar) have worse acuity than controls (white bar) when tested using a Low Luminance, Low Contrast test. Those with retinopathy (black bar) have about half the acuity of controls.
The specific tests for Diabetes related eye issues are:
Visual Field Test

Full Visual Field Test
Macula 10-2 test

Acuity Tests

Low Luminance Low Contrast
High Contrast Acuity
How do I proceed to take the test?   
Contact Us

 if you have an iPad OR a PC (laptop OR desktop)

Our "Test Consultant" will contact you within 24 hours to help you get started

You will receive a start-up pack which will include brief user manual

Once you are set-up, you can take the test and get an instant indication of your risk level

We also provide a FREE telephonic/online reputed ophthalmologist consultation if you use the tests
Important Information for you  
The test has been clinically validated and is very easy to take and has the following features:  
Multi-lingual (English & Hindi currently) voice prompt to guide you through the test procedure

Takes less than 7 minutes to complete the test (both eyes)

The test outputs are in a format very familiar to ophthalmologists AND also can tell you via a GREEN/AMBER/RED indicator whether you need to get a further check up or not

If you are going to use an iPAD for the test then you need iPad generation 3/4/Air2/IpadPro; Else you can use your laptop